It is our goal to keep your mouth healthy, your teeth fully functional, and your smile bright — and we are proud of all the services we offer to do exactly that. At the same time, we want you to understand all that modern dentistry in general has to offer you. To that end, we have assembled a first-rate dental library in which you can find a wealth of information on various dental topics, including:
From a thorough professional cleaning to a full smile makeover, there is an amazing array of services that cosmetic and general dentists offer to make sure your teeth stay healthy, function well and look great. If your smile is not all you want it to be, this is the place to start. Read more about Cosmetic & General Dentistry.
When you have a dental emergency — whether it's caused by a sudden accident or chronic disease — your teeth and/or the tissues of the mouth that surround them need to receive proper care right away. It's also important to be aware, before you're actually in the situation, of what you can do to ensure the best outcome. Read more about Emergency Dental Care.
This is the branch of dentistry that focuses on the inside of the tooth — specifically the root canals and sensitive, inner pulp (nerve) tissue. When this tissue becomes inflamed or infected, a root canal procedure may become necessary. But contrary to the popular myth, a root canal doesn't cause pain, it relives it. Read more about Endodontics.
If you are missing one or more teeth, dental implants offer the comfort and security of a permanent replacement that looks and functions just like your natural teeth. Dental implants also help preserve the tooth-supporting bone in your jaw that naturally deteriorates when even one tooth is lost. Read more about Implant Dentistry.
Oral health is an essential component of general health and well-being. Good oral health means a mouth that's free of disease; a bite that functions well enough for you to eat without pain and get ample nutrition; and a smile that lets you express your happiest emotions with confidence. Read more about Oral Health.
A major goal of modern dentistry is to help you keep your teeth and gums healthy for a lifetime. By following a conscientious program of oral hygiene at home, and coming to the dental office for routine cleanings and exams, you have the best chance of making this goal a reality. Read more about Oral Hygiene.
The word "surgery" often brings to mind a stay in the hospital, general anesthesia, and perhaps a lengthy recovery period. However, the experience of having oral surgery is usually very different from that. Some common oral surgery procedures include: tooth extractions, dental implant placement, and biopsies of suspicious oral lesions. Read more about Oral Surgery.
Adults and kids alike can benefit from the boost in self-confidence that comes from having a great-looking smile with beautifully aligned teeth. Orthodontic treatment can even improve chewing, speaking and oral hygiene in certain cases. And with today's virtually invisible orthodontic appliances, it's possible to keep your treatment a private matter… until your new smile is unveiled, of course! Read more about Orthodontics.
It's never too early to get your child started on the path toward a lifetime of good oral health, and there are many services to do exactly that. Monitoring your child's dental growth and development, and preventing and intercepting dental diseases along the way, is the primary focus of pediatric dentistry. Read more about Pediatric Dentistry.
If you want to keep your teeth for life — a completely reasonable goal in this day and age — you need to make sure the tissues that surround them are also healthy. Should gum problems arise, you may need periodontal therapy to restore diseased tissues to health. Read more about Periodontal Therapy.
In the field of dentistry, new technology is constantly changing the way diseases are diagnosed, routine procedures are performed, and illnesses are prevented. Although they may seem unfamiliar at first, new and improved dental technologies offer plenty of real benefits for patients. Read more about Technology.
Antibiotics are widely prescribed to control bacterial infections. Sometimes they are given before a medical or dental procedure, to prevent a possible infection from occurring; this practice is called "antibiotic prophylaxis." In the recent past, physicians and dentists advised that people with certain medical conditions - including a number of heart problems and several types of bone or joint replacements - should always take antibiotics before many routine dental procedures. Today, their advice may be different.
A growing body of evidence now indicates that far fewer patients need to take this preventive step than was previously thought. As a result, the guidelines for prescribing antibiotic prophylaxis have recently changed - and they may do so again in the future. Why are the recommendations changing - and what do you need to know about taking antibiotics before coming to the dental office?
The Risk of Infection
We all know that bacteria - both helpful and harmful types - thrive in many parts of the body, including the mouth. Whenever circumstances make it possible for these microorganisms to enter the bloodstream, there's a slight risk that a bacterial infection may develop. This could occur in many dental procedures - and it could also occur during routine activities like chewing, brushing and flossing. In most cases, the risk is so small that the chance of a having bad reaction to antibiotics (while rare) is far greater than the chance of developing an infection; therefore, antibiotics aren't routinely used.
Some people, however, need to take extra precautions before having dental procedures. If you have been treated for some types of heart disease, or have had certain orthopedic procedures (including total joint replacement), we may advise taking antibiotics to protect against even a remote chance of infection. Recommendations are made on an individual basis, taking into account your medical history and a clinician's healthcare experience.
Guidelines for Antibiotic Premedication
Prophylactic antibiotics might be recommended before dental procedures if you have one or more of the following heart conditions:
A heart transplant
Artificial heart valves
A history of infective endocarditis
Some types of congenital heart problems - particularly if they haven't been completely repaired, or if their treatment involves prosthetic material
If you have undergone a joint replacement procedure, prophylactic antibiotics might be recommended if you also have one or more of the following risk factors:
A systemic inflammatory disease such as rheumatoid arthritis or lupus erythematosis
A weakened immune system resulting from HIV, cancer, radiation or chemotherapy, or another cause
Insulin-dependent (type I) diabetes or hemophilia
A history of previous infection in a prosthetic joint
Undernourishment or malnourishment
There are other circumstances where taking prophylactic antibiotics would be a prudent step; there are also a number of situations where these medications might have been recommended in the past, but aren't currently required in all cases. For example, the presence of a benign heart murmur, a pacemaker or defibrillator, and certain heart diseases or congenital defects don't automatically mean that antibiotic prophylaxis will be needed.
In recent years, reports of drug-resistant bacteria and harmful side effects from some medications have increased public awareness of the consequences of overusing antibiotics. Fortunately, new scientific research is helping healthcare professionals make better, evidence-based treatment decisions on antibiotic use. If you have questions about whether you should take antibiotics before dental procedure, don't hesitate to ask.
Related Articles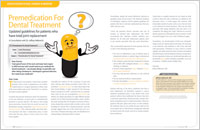 Premedication for Dental Treatment If you have had a total joint replacement in the past, you may be advised to take antibiotics before have dental work. That's because certain preexisting health conditions may make you more susceptible to infection during a dental procedure. Find out what the risk factors are... Read Article