Posts for tag: gum disease
By Decatur Family Dentistry
August 16, 2019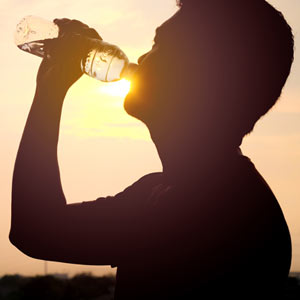 In many parts of the country, summer is often a synonym for "blast furnace" and can be downright hot and miserable. If you find yourself in such a climate, it's imperative that you drink plenty of water to beat both the heat and heat-related injuries. Your teeth and gums are another reason to keep hydrated during those hot summer months.
Your body needs water to produce all that saliva swishing around in your mouth. When you have less water available in your system, the production of this important bodily fluid can go down—and this can increase your risk of dental disease. That's because saliva performs a number of tasks that enhance dental health. It helps rinse the mouth of excess food particles after eating that could become a prime food source for disease-causing bacteria. It also contains antibodies that serve as the first line of defense against harmful microorganisms entering through the mouth.
Perhaps saliva's most important role, though, is protecting and strengthening enamel, the teeth's outer "armor" against disease. Although the strongest substance in the body, enamel has one principal foe: oral acid. If the mouth's normally neutral pH becomes too acidic, the minerals in enamel begin to soften and dissolve. In response, saliva neutralizes acid and re-mineralizes softened enamel.
Without a healthy salivary flow protecting the mouth in these different ways, the teeth and gums are vulnerable to assault from bacteria and acid. As they gain the upper hand, the risk for tooth decay or periodontal (gum) disease can skyrocket. Keeping yourself adequately hydrated ensures your body can produce an ample flow of saliva.
By the way, summer heat isn't the only cause for reduced saliva: Certain prescription medications may also interfere with its production. Chemotherapy and radiation, if targeting cancer near the head or neck, can damage salivary glands and impact flow as well.
If you have reduced saliva from medication you're taking, talk to your doctor about switching to an alternative prescription that doesn't affect saliva production. If you're undergoing cancer treatment, be extra vigilant about your oral hygiene practice and regular dental visits. And as with summer heat, be sure you're drinking plenty of water to help offset these other effects.
Even when it's hot, summertime should be a time for fun and relaxation. Don't let the heat ruin it—for your health or your smile.
If you would like more information about the oral health benefits of saliva and how to protect it, please contact us or schedule an appointment for a consultation.
By Decatur Family Dentistry
October 10, 2018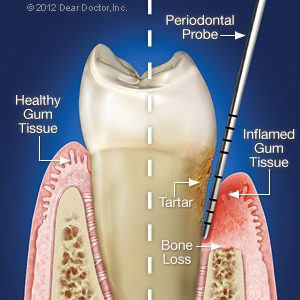 When we refer to periodontal (gum) disease, we're actually talking about a family of progressive, infectious diseases that attack the gums and other tissues attached to the teeth. Caused primarily by bacterial plaque left on tooth surfaces from inefficient oral hygiene, gum disease can ultimately lead to tooth loss.
There's only one way to stop the infection and restore health to diseased tissues — remove all of the offending plaque and calculus (hardened plaque deposits) possible from tooth and gum surfaces, including below the gum line at the roots. The basic tools for this task are specialized hand instruments called scalers or ultrasonic equipment that vibrates plaque loose. A series of cleaning sessions using these tools could stop the infection and promote healing if followed with a consistent, efficient daily hygiene habit.
There are times, however, when the infection has progressed so deeply below the gum line or into the tissues that it requires other procedures to remove the plaque and infected tissue. One such situation is the formation of an abscess within the gum tissues, a pus-filled sac that has developed in response to infection. After administering local anesthesia, the abscess must be treated to remove the cause and allow the infectious fluid to drain. The area is then thoroughly flushed with saline or an antibacterial solution.
The gum tissues are not completely attached to the tooth surface for a small distance creating a space. These spaces are called periodontal pockets when they are inflamed and continue to deepen as the disease progresses. These inflamed and sometimes pus-filled pockets form when tissues damaged by the infection detach from the teeth. If the pockets are located near the gum line, it may be possible to clean out the infectious material using scaling techniques. If, however, they're located four or more millimeters below the gum line a technique known as root planing may be needed, where plaque and calculus are shaved or "planed" from the root surface. As the disease progresses and the pockets deepen, it may also be necessary for surgical intervention to gain access to the tooth roots.
To stop gum disease and promote soft tissue healing, we should use any or all treatment tools at our disposal to reach even the most difficult places for removing plaque and calculus. The end result — a saved tooth — is well worth the effort.
If you would like more information on treating periodontal disease, please contact us or schedule an appointment for a consultation. You can also learn more about this topic by reading the Dear Doctor magazine article "Treating Difficult Areas of Periodontal Disease."
By Decatur Family Dentistry
July 02, 2018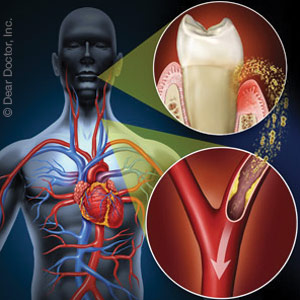 If you have periodontal (gum) disease, you probably already know you're in danger of eventual tooth and bone loss if the infection isn't brought under control. But if you also have diabetes, the effects from gum disease could extend well beyond your mouth.
Gum disease is a bacterial infection caused by plaque, a film of food remnant that builds up on tooth surfaces mainly due to poor oral hygiene. As the infection grows, your body's immune system responds by flooding your gum tissues with antibodies to fight it, resulting in inflammation. As the inflammation persists, though, it damages the gum and underlying bone tissue, which in turn leads to gum and bone loss from the teeth.
Diabetes also causes an inflammatory response within the body. The disease develops either as a result of the body's decreased ability to produce insulin to balance the glucose (sugar) levels in the bloodstream (Type 1) or the body develops a resistance to insulin's effects (Type 2). As a result diabetics experience abnormally high blood glucose levels, a condition called hyperglycemia. This triggers chronic inflammation that can lead to inhibited wound healing, increased risk of heart, kidney or eye disease, coma or death.
Gum disease can worsen diabetic inflammation, and vice versa. The effects of the oral infection add to the body's already overloaded response to diabetes. In turn, the immune system is already compromised due to diabetes, which can then increase the severity of the gum disease.
Research and experience, though, have found that pursuing treatment and disease management for either condition has a positive effect on managing the other. Treating gum disease through plaque removal, antibiotic therapy, surgery (if needed) and renewed oral hygiene will diminish the oral infection and reduce the body's immune response. Caring for diabetes through medication, diet, exercise and lifestyle changes like quitting smoking will in turn contribute to a quicker healing process for infected gum tissues.
Treating gum disease when you have diabetes calls for a coordinated approach on both fronts. By caring for both conditions you'll have a more positive effect on your overall health.
If you would like more information on the relationship between diabetes and gum disease, please contact us to schedule an appointment for a consultation.